2020 Real Estate Market Review and Projections for 2021
What a crazy year we have had. We began 2020 expecting a strong market, reminiscent of our market over the last few years, and projecting regular seasonal demand and related price increases and decreases.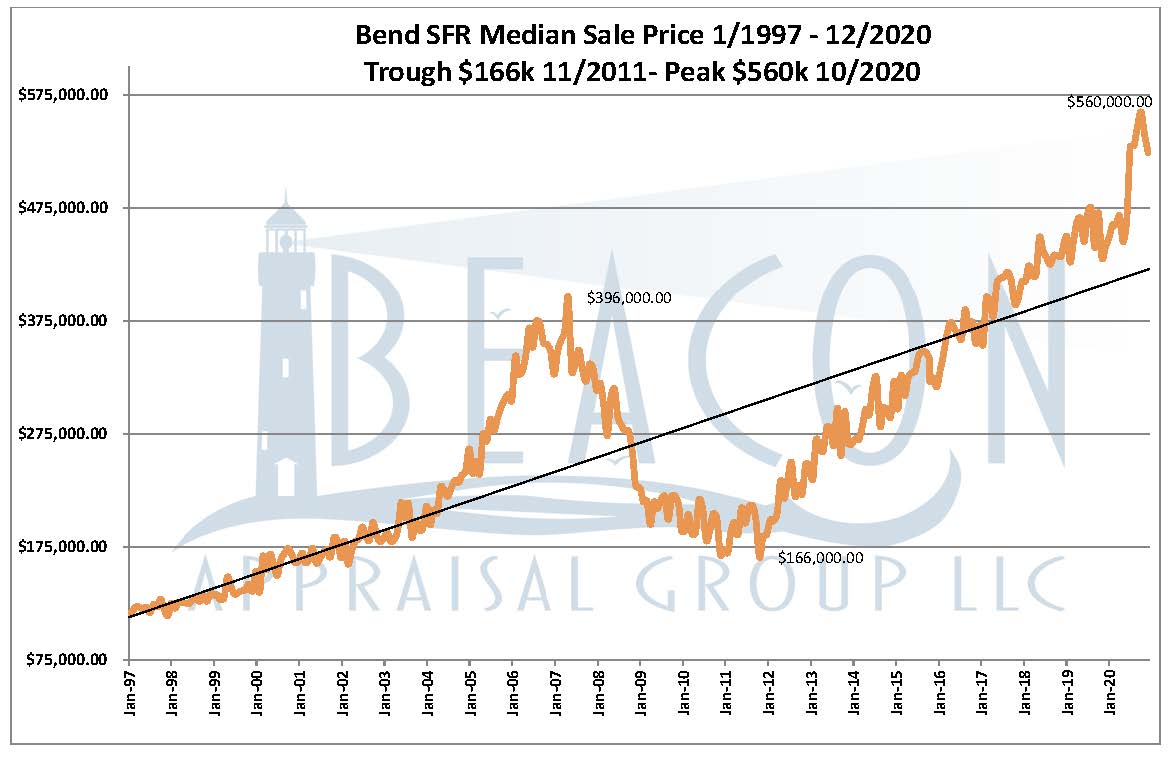 From December-December 2016-2017 we saw a 4% increase in sales price per square foot in Bend, Oregon. During the same time frame from 2017-2018 it was 8.5%, from 2018-2019 it was 7%, and from 2019-2020 it was 22%.
As for months of available inventory, our seasonal trend is usually two to three months of inventory. In 2020, since May, we have seen a continued downward trend in inventory and now only have approximately one-third of a month of inventory in December 2020.
One-third of a month of inventory is shocking. Six months is regarded as neutral. Any more inventory and it's a buyer's market one-third of a month is crazy.
When the pandemic ramped up many were unsure what would happen to the real estate market. There was fear, uncertainty, and tightened lending restrictions. As quickly as our market ground to a halt in March 2020 and held in a holding pattern, it then took off again. I personally felt it kick into high gear, which is supported by my analysis of the statistics.
Demand. Where did it come from?
Central Oregon is experiencing the perfect storm in regards to demand.
In my master's thesis dated July 2001, I researched how to mitigate negative growth impacts in resort communities. I predicted that demand for such communities as Bend, Oregon would be due to the increasing number of corporate executives choosing to make these areas their full-time places of residence. Executives are finding that they no longer need to be permanently geographically situated near their urban corporate headquarters. Executives are choosing to relocate their families as they are attracted by amenities, culture, and climate. I stated in my thesis that, "with this new influx of 'flexecutives', resort communities are under threat of becoming the suburbs of the new millennium".
Flash forward to March 2020. With relaxed corporate policies on telecommuting because of COVID-19, the combination of consumer's desires to get out of urban areas and have easier access to recreational pursuits, coupled with local demand as current residents' realization that their home environments may have been lacking in accommodating for home schooling, home offices, and home gyms… and demand exploded as soon as quarantine restrictions relaxed. The embers of demand, fueled by the now 50-year low interest rates, have created a frenzy.
So, what is in store for 2021?
Experts and economists agree that 2021's housing market will prove to be even stronger than 2020. Demand has not gone away, and we are seeing multiple offers on every price point; it is not uncommon to have 20 offers on one property. This competition is fueling what people are willing to pay. Interest rates continue to hit record lows. In the last year mortgage rates have hit record lows and the Federal Reserve has indicated that rates will remain favorable through 2021.
Home-price appreciation is expected to continue as limited inventory continues to create competition with buyers. Until the anxiety and uncertainty of the Coronavirus has settled and sellers become comfortable listing their homes for sale and transitioning, inventory will remain inadequate. It is predicted we may start to see more inventory become available in the second quarter, but of course that will depend on when people feel safe opening their homes to buyers, begin looking for homes themselves, and begin traveling again.
As always, I am here to answer any of your questions and help with whatever you need. Whether it is for yourself or for a friend or family member that needs help relocating, or if you need assistance finding a great referral for a home improvement project, please reach out and be assured I am always available to help.
The year 2020 was a crazy one. Personally, I have learned I am NOT the best middle school and high school teacher. I also learned that my family CAN all work and home school from home for 11 months and still like each other. I think my dog is the most put-out because she now disappears to find quiet spaces to rest.
 Thanks to all my clients who braved this year and trusted me with your transition. I apologize for the dogs barking in the background.
Overall I helped my clients buy and sell a total of 47 properties in 2020, totaling $30,000,0000 in real estate sales. Truly unbelievable a record-breaking year for me personally!
I hope you have a wonderful 2021.
Sonja Porter, Broker
Cascade Sotheby's International Realty
541-678-3941
sonja.porter@cascadesir.com