A Guide to the Home Selling Process
Selling your home is a major decision.  We pride ourselves in committing to our clients to help ensure the transition is as smooth as possible. The following information has been curated to assist you along your journey.
The Art of Pricing
STEP 1: Abandon your personal point of view. Step out of your shoes and be a shopper. How much would a buyer be willing to pay for your home?  Buyers do not care how much you paid for the home, how much you need from this home to purchase the next home, or how much time and money you have invested in hardwood floors or landscaping.
STEP 2: Get a CMA (comparable market analysis) with an accurate analysis of the homes that are comparable to your home that have sold in the last 6 months. This is normally done with price per square foot. Active home prices can be considered, but they are not a good gauge for the sales price. They are active and not sold for a reason. Remember that you want an honest opinion; not an agent that will suggest a flatteringly high price in order to get your listing only to demand a price reduction in 30 days.
STEP 3: Consider market conditions. Are homes selling quickly in your neighborhood? Are prices rising or declining? Are you selling in a buyer's market or a seller's market? Will your home be on the market in the spring home-buying season or in the dead of winter?.
STEP 4: Some buyers are looking for more than just the price. Can they move into the home when they need to? Can you, the seller, finance the home? The more creative and flexible you are in meeting a buyer's needs, the more success you will have in selling your home.
Do not be tempted to figure what you paid for the property, add a healthy markup, and start packing!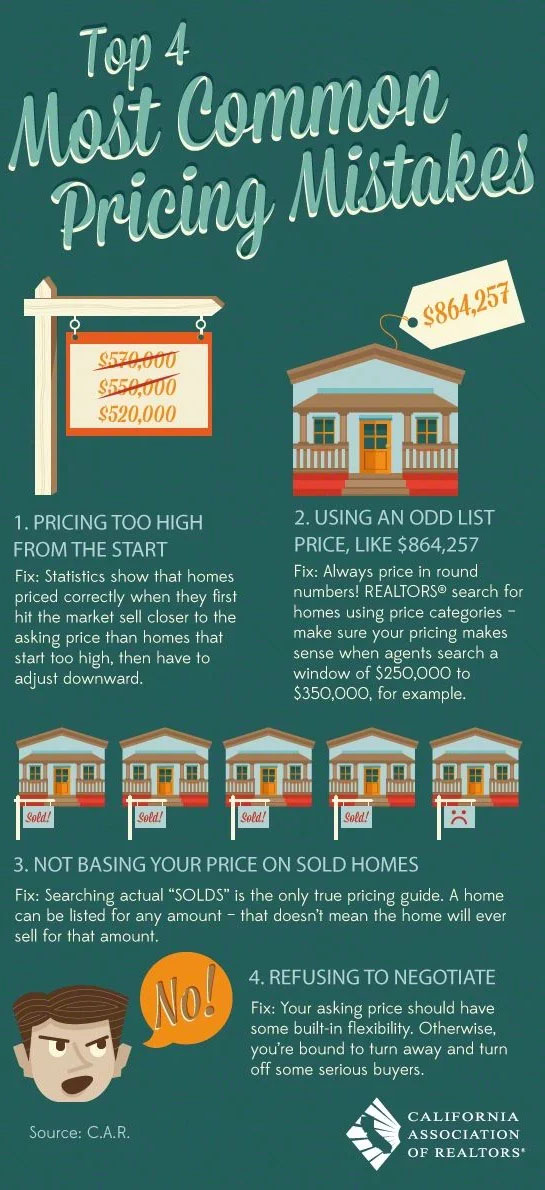 Prepping Your Home for Sale
If you are trying to sell your home, it really pays to make the extra effort to impress your buyers.
There have been studies that show it takes buyers only seven seconds to decide whether or not they are going to buy a home once they set foot in a house.  That is why it is so crucial to make a good impression and also why setting the stage for a sale is such a fine art.
However, not all of us have the cash on hand, or the time and energy to do things that are really going to flip your home over to the next buyer quickly. For instance, not everybody has the cash on hand to conduct a complete renovation of their dated kitchen.  However, you might have the money on hand to install designer faucets, paint the walls, and replace the old iron door handles with trendy new crystal knobs.
There some easy fixes to help you set the stage so your property is more attractive to buyers.
If you are unsure what to tackle, please contact us and we would be happy to sit down and review your home. We will help you develop a plan that merges your short-term resources with your long-term financial goals. If the projects are too big for you to undertake personally, we have an extensive network of licensed professionals who service Central Oregon that we can refer you to.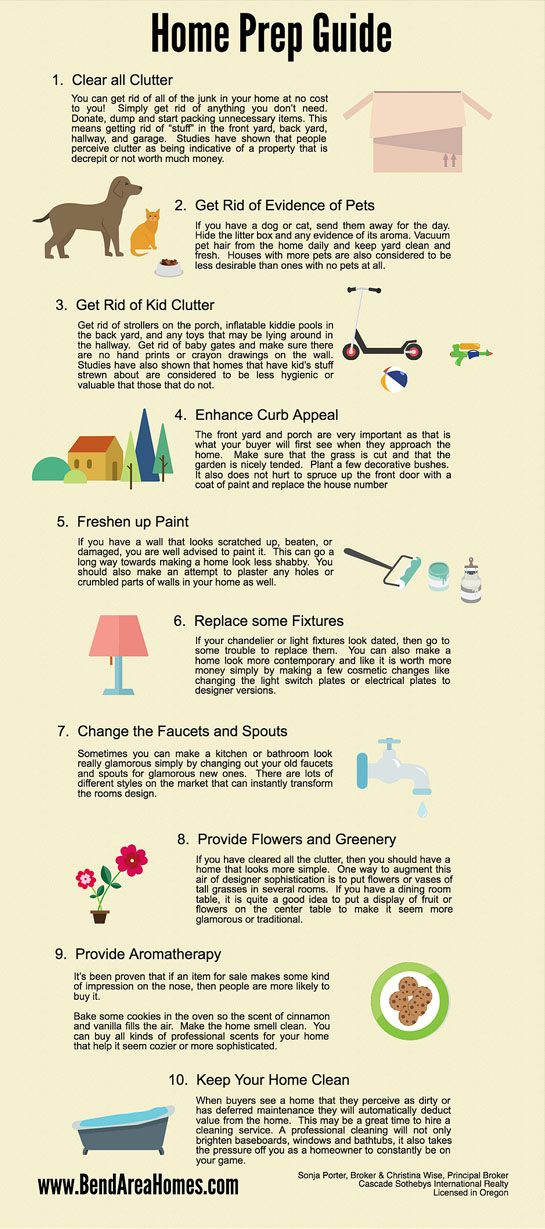 Join our mailing list today
Marketing Your Home for Sale
Online Marketing
When we market your home for sale online, thousands of potential buyers can preview your home worldwide on our Website and Cascade Sotheby's International Realty Website.  In addition, the listing is syndicated through an extensive network of online websites.  This is very important in selling a home today since a larger percentage of home buyers are shopping online and on their smartphones/tablets. The graphic below illustrates primary syndicated websites. This does not include the distribution that occurs on all other Real Estate sites that maintain a feed through our local Multiple Listing Service.
One of the benefits of working with a Cascade Sotheby's International Realty Broker is that we maintain exclusive agreements with the world's most influential media partners; providing unique access to place print and digital property ads that target qualified buyers for your home. That includes mainstream partners such as Apple TV, New York Times, and The Wall Street Journal, as well as lifestyle-focused partners such as Ocean Living and Country Life.
Apple TV is found in 24 million homes and with our innovative Apple TV app families can share the experience of discovering Sotheby's International Realty® properties from the comfort of their couch or home theater room. Apple TV allows the Sotheby's International Realty brand to present our curated high-definition videos and photography on a screen larger than ever before. Unique to our app, users can explore properties via our visual lifestyle search and keep track of your favorite properties and recent searches. The app is designed to truly immerse the consumer in the Sotheby's International Realty brand.
Social Media Marketing
We utilize advanced targeted social media marketing campaigns. These efforts have proven very successful in expanding our marketing reach and getting your properties in front of consumers that would be the best potential buyers for your property. We can target buyers geographically, by income, age, and interests. By combining enticing professional photography along with demographic and geographic data, we can get your home in front of the buyers that count.
Below is an example of a video marketing piece we developed for one of our listings. This video was viewed by 2,500 people within one week in a very targeted social media marketing campaign.
Marketing Brochures
We will present the very best features your home has to offer to inquiring parties using informative and inspiring full-color email and print brochures. We only use the highest resolution photography.
Direct Mail Campaigns
One of the many ways we will market your home is through our sophisticated direct email and print market campaign.  Marketing mailers are printed on oversized, high-quality card stock with a high gloss finish.
Print Marketing
While a web presence and direct mail campaign are very important in marketing, printed newspapers and magazines are a staple in real estate sales. We customize for our clients strategic print advertising campaigns designed to drive exposure of your property to all relevant market sectors. Through the Sotheby's International Realty Brand we have the ability to leverage many of the world's most well-known media partners in combination with a range of local, regional, and national magazines to bring extraordinary exposure to our clients. See the sidebar for more information about the amazing print marketing opportunities available for us to showcase our listings.
Marketing and Development Expertise
Our extensive background in marketing gives us a unique edge in selling your home. We provide constructive insight on how to best highlight the quality and unique features your home has to offer and how to convey these special features to prospective purchasers that might otherwise be overlooked by the untrained eye.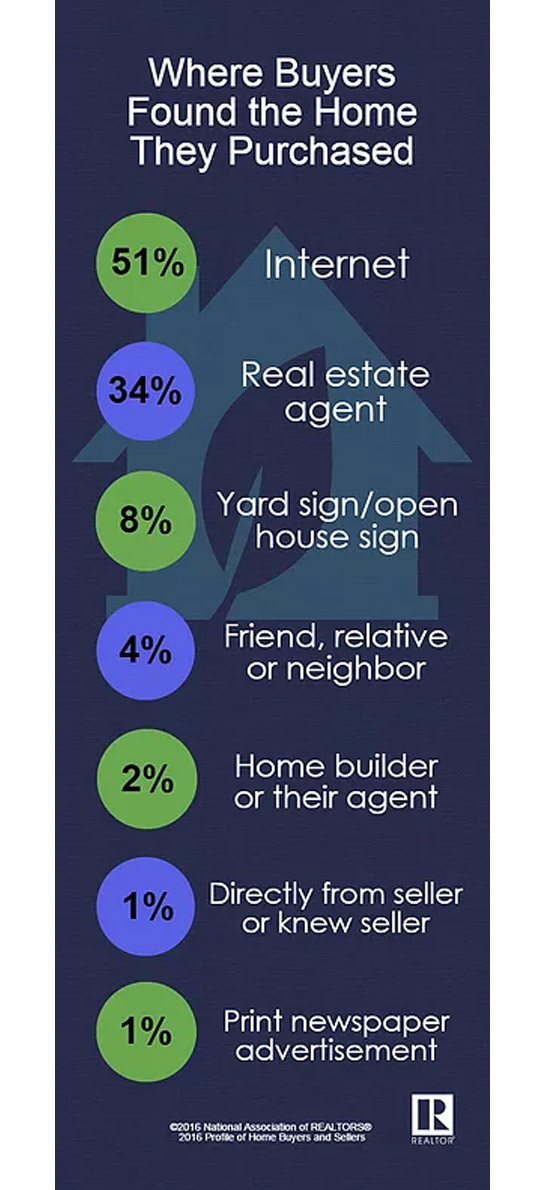 Contact Us Today

We aim to provide an exceptional experience in real estate and want to be sure you're well informed, every step of the way.